Italian Recipes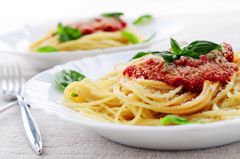 Uncorking a bottle of wine is a fascinating experience for everybody and becomes even an heartbeating event in the case of a masterpiece wine to be shared with friends and relatives.
Matching wine & food in a comfortable kitchen soothes one's own spirit after a tiring day at work, though someone has transformed it in an exciting and creative job that transcend in absolute art.
Within this pages we'd love sharing with you our personal experiences on wines & food, proposing some original recipe mostly coming from Piedmont tradition, along with wines able to enrich the matching.
Indeed, our goal would be to enlarge your and our knowledge about other countries traditional recipes and wines coming with, thus your comments and advices are strongly appreciated.
Buon Appetito!
Search a Vintage Wine
Discover the land of Piedmont in Italy: its wines and magic, few itineraries oeno-gastronomic of great interest.

WINE TOUR EXAMPLE 1
Barolo and Barbaresco overview
4 nights, 1 double room »

WINE TOUR EXAMPLE 2
One day in Serralunga d'Alba
1 day, 2 persons »

WINE TOUR EXAMPLE 3
Gavi, golf, wellness and wine
3 nights, 1 double room »
Please read our TERMS AND CONDITIONS about inclusions, travel arrangements, reservation ad deposit, cancellation and refunds

Barolo

Barbaresco

Brunello di Montalcino

Champagne

Burgundy

Ribolla Gialla

Supertuscans

Amarone

Bordeaux
About Us

Our company is located in Alessandria, Italy, in between Langhe, Roero and Monferrato, close to Alba and its region.
Continue »