Beccaccia su crostone di polenta - Woodcock on a polenta crust
Armando Monte (1968), Alba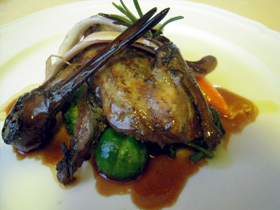 Ingredients
1 woodcock
1 slice of bacon
50g lard
50g butter
25g ham
1/2 carrot
Celery
A handful of parsley
1 bay leaf
10 juniper berries
1 glass Marsala wine
A polenta crust, baked in oven
Feather, gut and clean the woodcock; wrap it in a slice of bacon and tie it.
In a saucepan lightly fry the chopped ham, carrot, celery, parsley and bay leaf in the lard and butter. Add the woodcock, and brown it uniformly, turning it constantly.
Add the juniper berries and Marsala wine.
When the woodcock is cooked, place it onm the baked polenta crust, pass the gravy through a sieve and pour it over the bird.

Wine Suggested: Polenta is the typical dish of the cold season, a standard in northern Italy, when the snow keep people inside their home.
We would drink Barbera like every Piedmontese would do, but why not try to open a Merlot bottle? Castello di Lispida, Montelispida 2002.

Photo Credit by Convivium
Share This Page:
blog comments powered by

Disqus
Search a Vintage Wine
Discover the land of Piedmont in Italy: its wines and magic, few itineraries oeno-gastronomic of great interest.

WINE TOUR EXAMPLE 1
Barolo and Barbaresco overview
4 nights, 1 double room »

WINE TOUR EXAMPLE 2
One day in Serralunga d'Alba
1 day, 2 persons »

WINE TOUR EXAMPLE 3
Gavi, golf, wellness and wine
3 nights, 1 double room »
Please read our TERMS AND CONDITIONS about inclusions, travel arrangements, reservation ad deposit, cancellation and refunds

Barolo

Barbaresco

Brunello di Montalcino

Champagne

Burgundy

Ribolla Gialla

Supertuscans

Amarone

Bordeaux
About Us

Our company is located in Alessandria, Italy, in between Langhe, Roero and Monferrato, close to Alba and its region.
Continue »