About us

The Cathay Way S.r.l. company was founded in 2005 with the goal to realize an oeno-cultural bridge running from "Langhe" to Asia.
The charter members, Stefano Brisone and Massimiliano Tinelli, have first built up a fruitful relation with the most prestigious wine club of Hong Kong, the Crown Wine Cellars, then they've caught the chance to open its doors to legendary producers of the "Langhe", such as Mauro Mascarello (owner of the estate Giuseppe Mascarello), Giuseppe Rinaldi, Maria Teresa Mascarello (owner of the estate Bartolo Mascarello), Roberto Conterno (owner of the estate Giacomo Conterno), Sergio Barale (owner of the estate Fratelli Barale), Cantine Oddero, Cą del Baio and many more.
Accustomed with French and new world wines, Hong Kong wine lovers did gather at the Crown Wine Cellars to taste Barolo and Barbaresco served along with dishes of the real Italian and Piedmontese tradition.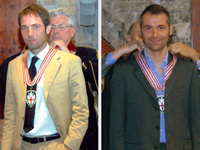 Hong Kong tastings success reached the Castle of Grinzane Cavour, where Stefano and Massimiliano had the honour to be appointed as "Cavalieri dell'Ordine del Tartufo e dei Vini di Alba", Knights of Alba.
The Order of Truffles and Wines of Alba is a very prestigious association focused on keeping and promoting world-wide the oeno-gastronomic pearls of the "Langhe".
The next step was marrying the Crown Wine Cellars and the "Cavalieri dell'Ordine del Tartufo e dei Vini di Alba" with two major events: the nomination of the "Gran Maestro" of Hong Kong together with the Council members and the first barrique bottling of "Barolo" in Hong Kong, whose goal was to celebrate the 10th jubilee of its handing over to Mainland China.
We are proud that our efforts and our passion helped to let people know about our wines and our tradition, we invite you all to come to take a tour in our land to discover our treasures.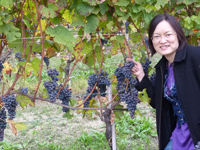 Furthermore, on the HK side we have established a fruitful relationship with Maria Wan, a true passionate and expert wine lover who has personally travelled with us trough the region, and tasted wines and food, met producers and people.

Nowadays she is one of our best partners in spreading across Asia the spirit of the region, dealing and reporting on Asia enquiries and helping in organising wine tours and tastings.

Gnocchi alla 'bava' - Gnocchi potato dumplings in cheese filaments

Cogną - Grape pickle

Coniglio con peperoni - Rabbit with capsicums

Bue brasato al Barolo - Ox braised in Barolo wine

Bonet - Baked custard

Barolo

Barbaresco

Brunello di Montalcino

Champagne

Burgundy

Ribolla Gialla

Supertuscans

Amarone

Bordeaux
About Us

Our company is located in Alessandria, Italy, in between Langhe, Roero and Monferrato, close to Alba and its region.
Continue »