Bue brasato al Barolo - Ox braised in Barolo wine
Felice Consolo (1964)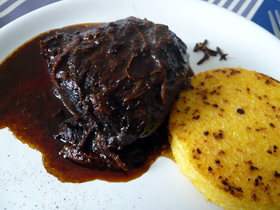 Ingredients
Ox loin, as indicated in the recipe
Barole wine
Tomatoes
Meat stock
Lard, Carrot, onion, several stalks of celery, juniper berries
Rosemary, thyme, garlic, bay leaves, cinnamon, cloves
Olive oil, butter, salt
NB – as the meat is cooked in the salted wine marinade, with meat stock, it isn't necessary to add more salt during cooking.
Take the boned meat, pierce it to add lard and carrot sticks.
Keep it for 8 days in a marinade of Barolo wine, onion, celery, rosemary, cloves, thyme, garlic, bay leaves, cinnamon, juniper berries, and a pinch of salt. If the wine evaporates, add some more.
Remove the meat and save the marinade.
Dry the meat on a cloth, and brown it in the oil and butter.
Add the marinade, and simmer. When the marinade reduces, add some fresh tomatoes, and some tomato paste if desired.
Place the baking dish in the oven, and as cooking proceeds, add boiling stock.
When the meat is cooked, remove it from the gravy.
Remove the fat from the surface of the gravy, pass it through a sieve, and reduce it over a low flame until it is quite thick. Stir in a knob of butter.
Slice the meat and arrange it on a baking dish and spoon the gravy over, to just cover it.

Wine Suggested: Meat in Barolo sauce, tasty fatty and rich, long cooking. The gravy must be also spicy, with lots of herbs on the base of celery and carrots. This dish is born here, and wants to have a nebbiolo wine beside on the table. We would use a serious Serralunga Barolo, like the Cascina Francia 2001 of Giacomo Conterno. But why not to experiment with a luxurious and mature Barbaresco Gallina 1988 Bruno Giacosa?

Photo Credits by conlegambesottoaltavolo
Share This Page:
blog comments powered by

Disqus
Search a Vintage Wine
Discover the land of Piedmont in Italy: its wines and magic, few itineraries oeno-gastronomic of great interest.

WINE TOUR EXAMPLE 1
Barolo and Barbaresco overview
4 nights, 1 double room »

WINE TOUR EXAMPLE 2
One day in Serralunga d'Alba
1 day, 2 persons »

WINE TOUR EXAMPLE 3
Gavi, golf, wellness and wine
3 nights, 1 double room »
Please read our TERMS AND CONDITIONS about inclusions, travel arrangements, reservation ad deposit, cancellation and refunds

Barolo

Barbaresco

Brunello di Montalcino

Champagne

Burgundy

Ribolla Gialla

Supertuscans

Amarone

Bordeaux
About Us

Our company is located in Alessandria, Italy, in between Langhe, Roero and Monferrato, close to Alba and its region.
Continue »