Bonet - Baked custard
Virginia Prandi (1960), Cravanzana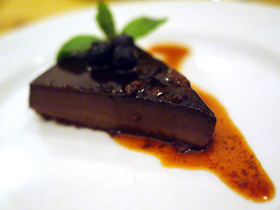 Ingredients for 8 servings
4 egg yolks
2 eggs
200g castor sugar
80g bitter cocoa
100g crushed almond macaroon biscuits
1 litre milk
1 liqueur glass rum
Beat the egg yolks carefully, with the egg whites and half the castor sugar
Add the cocoa and the finely crushed biscuits
Gradually dilute with the warm milk and the rum, being careful not to form lumps
Caramelise the remaining sugar and line a high sided form, working rapidly before the caramel hardens
Pour the mixture into the form and bake in a bain-marie for about an hour
Remove from the oven and place the form in cold water.Turn the custard out when it is completely cold.

Wine Suggested: The bonet, or bunet, it's basically a bread pudding (bread and biscuits) that belong to our peasantry tradition. Typically is served with sparkling moscato (in the past this wine was not as clear and sparkling as we are used to now), that was the Sunday wine for the dessert. If the chocolate tends to be strong and bitter we may go for a few of Barolo Chinato. Porto, why not? Pocas Junior, vintage 1964, with a slice of bunet and a good cigar to finish.

Photo Credit by kevineats.com
Share This Page:
blog comments powered by

Disqus
Search a Vintage Wine
Discover the land of Piedmont in Italy: its wines and magic, few itineraries oeno-gastronomic of great interest.

WINE TOUR EXAMPLE 1
Barolo and Barbaresco overview
4 nights, 1 double room »

WINE TOUR EXAMPLE 2
One day in Serralunga d'Alba
1 day, 2 persons »

WINE TOUR EXAMPLE 3
Gavi, golf, wellness and wine
3 nights, 1 double room »
Please read our TERMS AND CONDITIONS about inclusions, travel arrangements, reservation ad deposit, cancellation and refunds

Barolo

Barbaresco

Brunello di Montalcino

Champagne

Burgundy

Ribolla Gialla

Supertuscans

Amarone

Bordeaux
About Us

Our company is located in Alessandria, Italy, in between Langhe, Roero and Monferrato, close to Alba and its region.
Continue »