Coniglio con peperoni - Rabbit with capsicums
Felice Cunsolo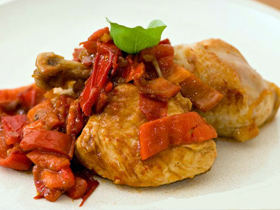 Ingredients for six people
1 rabbit
Veal fat
Butter, oil
1 bay leaf, rosemary, thyme
Basil, sage
Marjoram
3 anchovies
5 capsicums
3 cloves of garlic
Vinegar, salt
Cut the rabbit into pieces and lightly fry it in a little fat from veal kidneys and butter, with a bay leaf, tips of rosemary springs, marjoram, thyme, basil and sage.
Add a little salt, remove the fat, and moisten with boiling stock. Continue cooking, adding more stock as necessary, a little at a time.
In the meantime, cut the capsicums into strips and brown them in a pan with the boned anchovies, the finely sliced cloves of garlic, oil and butter.
When the capsicums are browned, cover them with half a cup of vinegar and stir frequently.
Transfer the capsicums to the pot where the rabbit is cooking, and leave to simmer for a further half hour.

Wine Suggested: For this recipe I go on a white wine, round rich and quite unique like the Ribolla gialla of Josko Gravner, Anfora 2003.

Photo Credits by WhatYouLove
Share This Page:
blog comments powered by

Disqus
Search a Vintage Wine
Discover the land of Piedmont in Italy: its wines and magic, few itineraries oeno-gastronomic of great interest.

WINE TOUR EXAMPLE 1
Barolo and Barbaresco overview
4 nights, 1 double room »

WINE TOUR EXAMPLE 2
One day in Serralunga d'Alba
1 day, 2 persons »

WINE TOUR EXAMPLE 3
Gavi, golf, wellness and wine
3 nights, 1 double room »
Please read our TERMS AND CONDITIONS about inclusions, travel arrangements, reservation ad deposit, cancellation and refunds

Barolo

Barbaresco

Brunello di Montalcino

Champagne

Burgundy

Ribolla Gialla

Supertuscans

Amarone

Bordeaux
About Us

Our company is located in Alessandria, Italy, in between Langhe, Roero and Monferrato, close to Alba and its region.
Continue »