Cogną - Grape pickle
Armando Monte (1968), Alba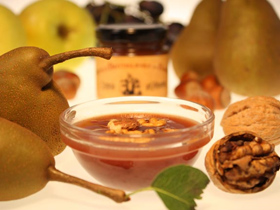 Ingredients
2kg Dolcetto grapes
500g renette apples
500g figs
500g Marine pears, or small, very sweet, tasty pears
10g cinnamon, 15 cloves
300g walnut kernels and toasted hazelnuts
Crush the grapes and pass them through a sieve to separate the must (juice) from the skins, stalks and seeds.
Bring the must to the boil, and simmer until it reaches a good consistency.
Add peeled apples, cut into segments, whole, not over-ripe figs, peeled, whole pears, pieces of cinnamon, and whole cloves.
Continue cooking until the fruit is cooked and the juice becomes syrupy.

Wine Suggested: The cogną is a preserve of fruit that was used to be cooked during the harvest, with the result of the work in the vineyard. Finished pressing the grapes usually was given to the workers, from the youngest to the oldest, a sandwich with this jam, warm and still liquid. After some rest into the fruit can you can use it to go along with the cheese, the typical toma of mixed milk of our hills. A passito wine would be perfect. Like also the eiswine or, of course, the more famous botrytis. This time I propose a Tocai, Borgo del Tiglio, 1999.

Photo Credits by Bottiglie di Barolo
Share This Page:
blog comments powered by

Disqus
Search a Vintage Wine
Discover the land of Piedmont in Italy: its wines and magic, few itineraries oeno-gastronomic of great interest.

WINE TOUR EXAMPLE 1
Barolo and Barbaresco overview
4 nights, 1 double room »

WINE TOUR EXAMPLE 2
One day in Serralunga d'Alba
1 day, 2 persons »

WINE TOUR EXAMPLE 3
Gavi, golf, wellness and wine
3 nights, 1 double room »
Please read our TERMS AND CONDITIONS about inclusions, travel arrangements, reservation ad deposit, cancellation and refunds

Barolo

Barbaresco

Brunello di Montalcino

Champagne

Burgundy

Ribolla Gialla

Supertuscans

Amarone

Bordeaux
About Us

Our company is located in Alessandria, Italy, in between Langhe, Roero and Monferrato, close to Alba and its region.
Continue »