Capretto al Barolo - Kid goat in Barolo wine
Felice Consolo, (1964), by courtesy of Giardino restaurant, Manforte d'Alba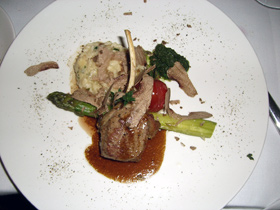 Ingredients:
1 Kg Kid goat meat
1 glass Barolo wine
1 glass Marsala wine
1/2 glass Grappa
Garlic, onion
Rosemary
Salt, pepper
Oil, butter

Lightly fry a sliced onion in oil and butter.
Add the meat, cut into pieces, and the garlic, rosemary, salt and pepper.
When the meat juices begin to evaporate, keep the pan uncovered on high heat and pour over the Barolo wine, and then the Marsala.
When the Marsala evaporates, cover the pan and reduce to a very low heat, until cooked.
Finally add the Grappa and serve.
The quantity of onion, garlic and rosemary can vary according to taste, but the proportion of wine to 1 Kg of meat should remain as stated.
Wine Suggested: Borolo wine for Kid goat in Barolo sauce. We would suggest a Barolo Monprivato 1995 of Giuseppe Mascarello, a top wine at its plateau.
Share This Page:
blog comments powered by

Disqus
Search a Vintage Wine
Discover the land of Piedmont in Italy: its wines and magic, few itineraries oeno-gastronomic of great interest.

WINE TOUR EXAMPLE 1
Barolo and Barbaresco overview
4 nights, 1 double room »

WINE TOUR EXAMPLE 2
One day in Serralunga d'Alba
1 day, 2 persons »

WINE TOUR EXAMPLE 3
Gavi, golf, wellness and wine
3 nights, 1 double room »
Please read our TERMS AND CONDITIONS about inclusions, travel arrangements, reservation ad deposit, cancellation and refunds

Barolo

Barbaresco

Brunello di Montalcino

Champagne

Burgundy

Ribolla Gialla

Supertuscans

Amarone

Bordeaux
About Us

Our company is located in Alessandria, Italy, in between Langhe, Roero and Monferrato, close to Alba and its region.
Continue »