Bagna Cāuda - Hot Anchovy and Garlic Dip
Giuseppina Bolla (1971), La Morra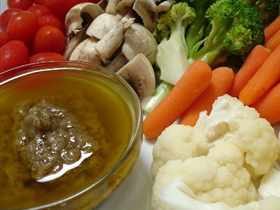 Ingredients for each person
3/4 of a head of garlic
50 g anchovies
150 ml oil
Butter
Salt
Cardoons
Capsicums
Jerusalem artichoke (tapinambour)
Cabbage
Turnip
Beetroot etc.
We have chosen this recipe from among the many version that exist, as it follows some of the basic principles fundamental to the preparation of Bagna Cāuda. The three basic rules are: never boil the oil; never burn the garlic, nor allow it to darken; like a true gourmet, only eat a moderate amount. Following these rules overcomes the problems of "garlic breath" and of digestion difficulties.
Break the garlic into cloves and peel it. If it isn't fresh, remove the internal germ.
Place the garlic in a saucepan and cover it with milk, and simmer until tender to the point of a knife.
Discard the milk, and chop the garlic coarsely with the point of the same knife.
Return the garlic to the saucepan and add the oil.
Rinse the salt off the anchovies and wash them in vinegar. Pat them dry and add them to the oil and garlic.
Return the pan to a low heat (the oil mustn't boil) and stir continuously (in order not to burn the garlic) until the mixture reaches an even consistency. (Clearly, this operation was much easier in the past, when it was done over the live coals of a brazier, rather than on a stove or with a gas cooker).
After about 20 minutes add a little butter, stir the mixture until the butter melts, and serve in the special warmer.
Be careful to keep the dip warm without letting it boil.
According to tradition, bagna cāuda was eaten by dipping only cardoons and raw capsicums, and good bread, but it seems right that the evolution of the dish now allow the inclusion of: Jerusalem artichoke in slices or strips, cabbage leaves, boiled turnip, baked beetroot, and baked capsicums.
The vegetables are served with the dip, precut into pieces, and arranged in a large serving dish.

Wine Suggested: The typical wines with Bagna Cauda are a href="http://www.cathayway.it/vintage-wines/catalog.php?q=barbera">Barbera and Dolcetto. We go for Dolcetto, it's a lovely fresh wine that goes well with fresh vegetables. No need to have strong wines, leave the oak to other dishes. Go with the dolcetto di Dogliani and come back.

Photo Credit by Albanesi.it
Share This Page:
blog comments powered by

Disqus
Search a Vintage Wine
Discover the land of Piedmont in Italy: its wines and magic, few itineraries oeno-gastronomic of great interest.

WINE TOUR EXAMPLE 1
Barolo and Barbaresco overview
4 nights, 1 double room »

WINE TOUR EXAMPLE 2
One day in Serralunga d'Alba
1 day, 2 persons »

WINE TOUR EXAMPLE 3
Gavi, golf, wellness and wine
3 nights, 1 double room »
Please read our TERMS AND CONDITIONS about inclusions, travel arrangements, reservation ad deposit, cancellation and refunds

Barolo

Barbaresco

Brunello di Montalcino

Champagne

Burgundy

Ribolla Gialla

Supertuscans

Amarone

Bordeaux
About Us

Our company is located in Alessandria, Italy, in between Langhe, Roero and Monferrato, close to Alba and its region.
Continue »