Capretto con i carciofi - Kid goat with artichokes
Paola Barberis (1995), Alba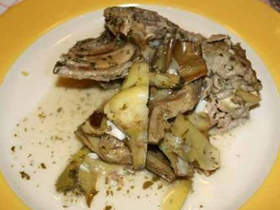 Ingredients for base recipe
A leg or shoulder of suckling goat or lamb
Oil, butter
Onion, rosemary
1 glass Furmentin wine or other dry white wine
5-6 artichokes
Parsley, 1 lemon, Salt

Cut the meat into pieces and brown it in oil and butter, with a whole onion and a sprig of rosemary.
Moisten with wine and continue cooking.
Halfway through cooking, remove onion and rosemary, and add the artichokes, cut into thin segments.
When the artichokes and meat are cooked, sprinkle over the finely chopped parsley, and the lemon juice, and serve.

Wine Suggested: This is a special dish, where these vegetables and the final lemon note give all a special character. Our idea is to pair it with a fresh fruity wine like the Barbera or a great Chianti like could be the Riserva Ruffino Riserva Il Magnifico 1965.

Photo Credit by Buttalapasta.it
Share This Page:
blog comments powered by

Disqus
Search a Vintage Wine
Discover the land of Piedmont in Italy: its wines and magic, few itineraries oeno-gastronomic of great interest.

WINE TOUR EXAMPLE 1
Barolo and Barbaresco overview
4 nights, 1 double room »

WINE TOUR EXAMPLE 2
One day in Serralunga d'Alba
1 day, 2 persons »

WINE TOUR EXAMPLE 3
Gavi, golf, wellness and wine
3 nights, 1 double room »
Please read our TERMS AND CONDITIONS about inclusions, travel arrangements, reservation ad deposit, cancellation and refunds

Barolo

Barbaresco

Brunello di Montalcino

Champagne

Burgundy

Ribolla Gialla

Supertuscans

Amarone

Bordeaux
About Us

Our company is located in Alessandria, Italy, in between Langhe, Roero and Monferrato, close to Alba and its region.
Continue »