Anitra di Palmina - Palmina Duck
Luciano De Giacomi (1982), Alba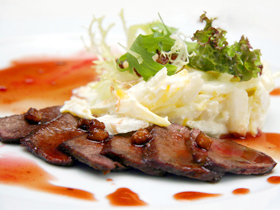 Ingredients for 4 servings

1 mute duck
Salt, Pepper
Arneis wine
1 onion
1 carrot
2 stalks celery
Meat stock
1 glass Cognac
New potatoes

Take a freshly killed mute duck. Pluck it, remove the innards, clean it well and sear it over a flame. Remove and discard the head and neck, the wing tips, the feet, the front glands to the side of the tail stump, and the tail stump.
Place the duck in a small covered baking dish, sprinkle with salt and pepper and cover it with Arneis wine or other white wine
Bake the duck in the covered dish until all the wine is absorbed, leaving the duck in its own fat
Lightly fry the chopped onion, carrot and celery
Remove the duck from the dish, drain away the fat, and return the duck to the dish with the lightly fried vegetables
Return the dish to the oven to complete cooking, allowing the duck to brown, and basting it with good meat stock and Cognac
Cut the cooked duck into pieces and arrange them on a hot serving dish. Spoon the sauce over the meat, and surround it with boiled, buttered new potatoes

Wine Suggested: We have two options to pair this dish, considering that the cooking sauce is cognac based and quite savoury. The first option is a red, Burgundy Pinot Noir , like for instance a great Chambertin Clos de Beze Dominique Laurent. The second option, more creative, is to pair with a white of rare Italian Josko Gravner wine, the Breg.
Share This Page:
blog comments powered by

Disqus
Search a Vintage Wine
Discover the land of Piedmont in Italy: its wines and magic, few itineraries oeno-gastronomic of great interest.

WINE TOUR EXAMPLE 1
Barolo and Barbaresco overview
4 nights, 1 double room »

WINE TOUR EXAMPLE 2
One day in Serralunga d'Alba
1 day, 2 persons »

WINE TOUR EXAMPLE 3
Gavi, golf, wellness and wine
3 nights, 1 double room »
Please read our TERMS AND CONDITIONS about inclusions, travel arrangements, reservation ad deposit, cancellation and refunds

Barolo

Barbaresco

Brunello di Montalcino

Champagne

Burgundy

Ribolla Gialla

Supertuscans

Amarone

Bordeaux
About Us

Our company is located in Alessandria, Italy, in between Langhe, Roero and Monferrato, close to Alba and its region.
Continue »