Archive for the 'Travel' tag
Following an irrepressible need of sun and ocean breeze, I decided to take a week for myself and booked a ticket for Lisbon. May plan was to stay a couple of days in this town and then move to the northern wine districts, Bairrada first and then Douro.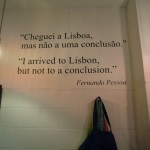 Lisbon is a romantic city, full of sun, colours, music, people moving up and down from its hills, the most Brazilian of the European cities. Discarded the desire of eating and drinking well in Lisbon, I just let myself follow the crowd, that believe me, on Friday and Saturday night is really crazy!
I found a great little bar in Rossio square called Bifana where you can get a great Bifana's meat sandwich and a beer for few euro and then you just have to move up to the Bairro Alto stopping for a Ginja at every knot of people with a glass in hand.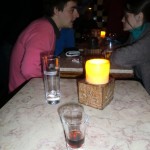 After 5-6 Ginja you reach the higher part of the Bairro, I found a nice place in rua da Atalaia, Portas Largas. I was lucky to find there a little concert of bossa played by acoustic guitar and drums, nice guests and good beer. Then just walk around the place and enjoy the night! You will find hundred bars and restaurants and thousand people walking happily around. Remember that after 1 o'clock to go back home you need a taxi, best is to go back down to Rossio to find one.