Archive for the 'Vintage Wines' Category
After a log trip around Europe I decided to visit Alsace by my own in winter. I was at a friends house in Mulhouse so near to Colmar and Strasburg that I find tempted to go there. I also have a great devotion and admiration to the Alsatian wines. All the noble grapes are so expressive and interesting, but it was winter and I was alone, who cares. I took the train to Strasburg first two hours from Mulhouse. The scenery was perfect. It was cold but the sky was clear. I get to Strasburg and went to my hotel. The city is just beautiful; I walked all day making few stops. Went to Lafayette and bought some wines, Riesling and gewürztraminer. The next day I decided to go to Colmar, one of main cities of the viticulture. All in Alsace is French-german, it's a style, and it's a mixture with neat, lovely and cozy arquitecture with the exquisite French food: boulangeries, patisseries, good onion soup and many different dishes. After waking around Colmar, capital of the Alsatian wines, I was looking for something else; I realized that I was looking desperately for see the vineyards, so I took a ticket to go to Turkheim, the heart of one of the grand crus. There are seven main grape varieties and four of them are known as noble grapes which are planted in the grand crus. The seven of the region are sylvaner, pinot blanc, pinot noir and the noble grapes: Riesling, gewürztraminer, pinot gris and muscat. Only one red grape, the rest are mostly aromatic. The sylvaner is fresh, light and fruity, very good to drink as aperitif. Pinot blanc it is used for still wines and for the famous AOC Cremant d´ Alsace, the sparkling made with the traditional second fermentation in bottle, and 9 months at least with lees contact. Pinot noir, the only red grape, fruity, cherry like bouquet, it is used for still red wines sometimes with oak and also to add structure to the cremant. If you want to drink a wine really dry, you may have to choose Riesling because generally, gewürztraminer and pinot gris are off dry. These two grapes develop a little more alcohol than the rest so winemakers prefer to stop the fermentation so the alcohol don´t rise to 14 or 15 %. Riesling is one of the finest grapes in the world and here the expression is vast. In the nose it is very enigmatic, with lime aromas, mineral, petrol, floral. In the mouth so fresh, the high acidity, light body but so complex and persistent. I took a bus to go to Turkheim, you can go with the 10 or the 15 but the 15 its better. This place is famous for their wines. It´s Brand (grand cru) is situated among the most important vineyards, and there is a viticulture foot path, just what I was looking for!  The departure is from the tourist office, it is 2 km long and it takes 1 hour.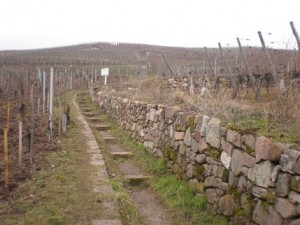 But I was so happy and the scenery was so beautiful that it takes me much more. The fame of Brand is due to two essential factors: its geographical situation and its ground and underground nature. The site with the shape of a shallow depression towards the south enjoys long hours of sunshine. The terroir, the soil results from a complex sub-ground rocks with granite and mica know as Granite from Turkheim. I walk alone in the path; it was winter, as I told you, and the producers where doing the winter pruning. So the only thing that I could hear was the sound of the pneumatic scissors. It was nice to see the horse in the vineyards of Zind Humbrecht in Brand. They where plowing the land and doing the pruning labors as well.
I didn´t have time to call the producers so the only place that I visit to taste wines was the Cave de Turkheim and I tasted 13 wines.
Pinot Blanc 2007 Granit de la Vallée
Riesling 2005 Marnes et calcaires
Riesling 2007 AOC Grand Cru Brand, granit
Riesling 2007 AOC Grand Cru Hengst (Wintzenheim) limestone
Riesling 2005 Wineck-Schlossberg (Katzenthal) granit
Pinot Gris 2007 Sables and Galets (sand and round rocks)
Pinot Gris 2007 Hengst (Wintzenheim)
Muscat 2008 Reserve
Gewürztraminer 2007  Reserve du Baron de Turkheim
Gewürztraminer 2005 Hengst
Gewürztraminer 2008 Brand
Pinot Gris 2007 VT
Gewürztraminer 2005 SGN
I promise to continue this large description with tasting notes, etc. But for the moment, I post this so you start thinking in going to Alsace but in summer time!!!
Last Saturday I went to visit Vinum in Alba, and had a chance to have a nice overview of the last Barolo and Barbaresco released.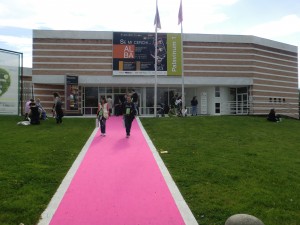 I tasted basically nebbiolo based wines, all recent vintages, the oldest the 2004.
 At a first glance I had the impression that there is a sort of alignment to the top for many producers, there were many good wines on the shelf. After tasting many Nebbiolo is also possible to say that these wines tend to be always more complete compared to many their big brothers, Barolo and Barbaresco.
It's the case of the Nebbiolo of Conterno Fantino, which is the leader of this group of  great wines, cheaper than others but always a good choice to drink.
Another thing that was noted by us, me and Cristina, who gently accompanied me during this visit, is that this alignment to an average high level of wines, is the attempt to tarn the strong tannins of these wines made by many produceres, even if the use of toasted barrels is not going out of fashion for sure.
The top producers who did a very good job in finding a good balance have been Chiara Boschis, Azienda Agricola E. Pira e figli, with her Baolo.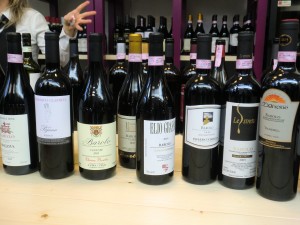 On the Barbaresco side, my vote goes to Mr. Sassi, Azienda Agricola San Cristoforo that presented a great vertical tasting of its Barbaresco wines. The 2004 was outstanding.
Lot of young people around drinking and enjoyning Alba. It has been a very nice day.